Home — Shows & Workshops — Recommendations
Welcome to J.P. Nightingale!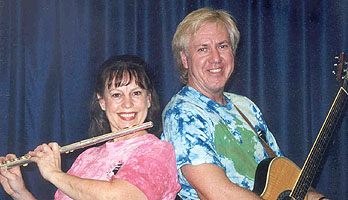 J.P. Nightingale captures the imagination of people of all ages with stories, songs, rhymes, and mimes from the different cultures of the world. By blending classic fables and fairy tales with original and contemporary stories and songs, these versatile actor-musicians turn a bare stage into an exciting fast-paced show.
J.P. Nightingale's classic recordings are now available for purchase: The Wonder of the Written Word, and Around the World With J.P. Nightingale (Nightingale Notes, $13 per CD; order by phone at 818-998-8424.
Since 1973, these popular performers have entertained young audiences in a variety of venues:
Hollywood Bowl
Los Angeles Music Center
School and Community Theatre Tours
Over 9,000 performances with:
Performing Tree

Orange County Performing Arts Center

Music Center on Tour (Los Angeles Music Center)

ICAP (Inter-Cultural Awareness Program)
Television
In the Center Ring
Emmy Award-nominated special, writer/performers

Open House Theatre
26 episodes, Emcees

Alphie's Alphabet
Educational video for ages 2-6, writer/performers
About Our Director
Pamela Nightingale, co-founder and director of J.P. Nightingale, began performing for children and family audiences while studying Creative Dramatics in college. She holds California Teaching Credentials in Primary and Secondary Education, specializing in Theatre Arts, English, and Psychology. She has taught numerous classes and workshops to students from elementary school to the University level; and is certified as a Studio Teacher for children in the movie, television, and commercial industries. Recently, Pamela was honored by the State of California and Southern California arts agencies with the First Annual Lifetime Achievement Award, P.A.S.A. (Professional Artists in Schools Award).
---
J.P. Nightingale
Landmail: P.O. Box 2665, Winnetka, CA 91309-2665
Phone: 818-998-8424
Email: pam@jpnightingale.com
website: http://www.jpnightingale.com